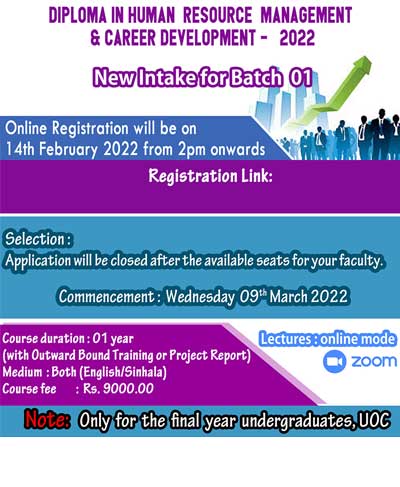 Diploma in Human Resource Management & Career Development – 2022 – Batch 01
威而鋼
rc="https://cgu.cmb.ac.lk/wp-content/uploads/diploma-hrm-cd-3.jpg" alt="" width="796″ height="1198″ />
---
DIPLOMA IN HUMAN RESOURCE MANAGEMENT & CAREER DEVELOPMENT -BATCH 01
The Career Guidance Unit is planning犀利士
to conduct a new course "DIPLOMA IN HUMAN RESOURCE MANAGEMENT & CAREER DEVELOPMENT" in 2022.
The CGU has been conducting the Certificate C威而鋼
ourse in Human Resource Management & Development since 2007.
The course aims on developing the knowledge of the undergraduates on Human Resource Management and providing them with prac日本藤素
tical opportunities to focus on Career Development and develop their leadership skills.
All the lectures of the course will be conducted during weekends or weekday evenings and delivered by the resource persons from the Faculty of Management and Finance/ UOC and the External Resource persons from the government and corporate se犀利士
ctor.
|

Registration is now closed!